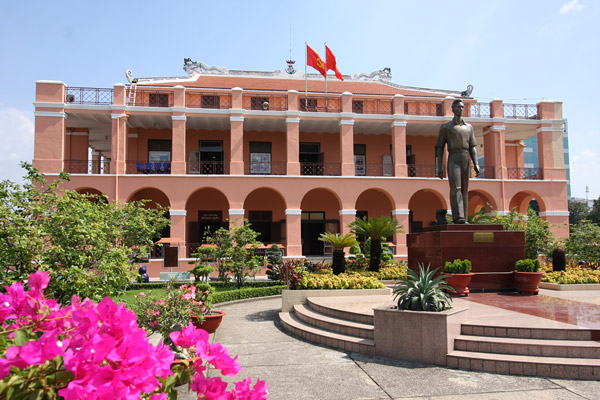 Ho Chi Minh Museum
Welcome to Ho Chi Minh City!


Geography
In the core of the Mekong Delta, Ho Chi Minh City, formerly known as Sai Gon, is the second most important city in Viet Nam after Hanoi. It is not only a commercial center but also a scientific, technological, industrial and tourist center. The city has many rivers, arroyos and canals, the biggest river being the Saigon River. The Port of Saigon, established in 1862, is accessible to ships weighing up to 30 000 T, a rare advantage for an inland river port.
History
Many centuries ago, Saigon was already a busy commercial center. Merchants from China, Japan and many European countries would sail up the Saigon River to reach the islet of Pho, a trading center. In 1874, Cho Lon merged with Saigon, forming the largest city in Indochina. Many times, it had been celebrated as the Pearl of the Far East. After the reunification of the country, at its meeting of 2 July 1976 the 6th National Assembly officially rebaptized Saigon as Ho Chi Minh City. The history of the city relates closely with Viet Nam's struggle for independence and freedom.
Tourism
Today, Ho Chi Minh City is the largest tourism center in Viet Nam. The City has various attractions such as Ho Chi Minh Museum (picture, left), formerly known as Dragon House Wharf, the Cathedral (picture, right), Cu Chi Tunnels, and many other museums, theatres, and cultural houses. Recently, many tourist areas have developed such as Thanh Da, Binh Quoi Village, Dam Sen Park, Saigon Water Park, Suoi Tien, and Ky Hoa, which draw many tourists to the area.
Architecture
Despite its quite recent past, Ho Chi Minh City nevertheless possesses various beautiful buildings, displaying a characteristic combination of Vietnamese, Chinese and European cultures. These include Nha Rong (Dragon House Wharf), Quoc To Temple (National Ancestors Temple), Xa Tay (Municipal Office), Ho Chi Minh Municipal Theatre as well as many pagodas and churches (Vinh Nghiem, Giac Vien, Giac Lam, Phung Son pagodas, etc.). After more than 300 years of development, Ho Chi Minh City presents many ancient architectural constructions, famous vestiges and renowned sights. It is remarkable for its harmonious blending of traditional national values with northern and western cultural features.

Enjoy your stay in Ho Chi Minh City,
and take the opportunity to explore this wonderful city.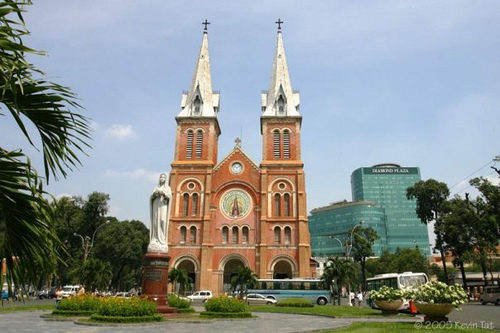 Saigon Notre Dame Cathedral